---
Virgin Money bought by CYBG for £1.7bn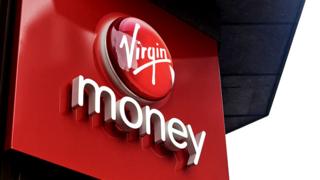 The owner of Clydesdale Bank and Yorkshire Bank, CYBG, has agreed to buy Virgin Money for £1.7bn.
Under the terms of the deal, Virgin Money shareholders will get 1.2125 new CYBG shares for every Virgin Money share they hold.
CYBG said the new firm would be a leading force in banking, "disrupting the status quo and championing customer service excellence".
It will be the UK's sixth largest bank, with six million customers.
CYBG has said it will keep the Virgin Money brand, subject to an agreement with Sir Richard Branson's Virgin Group.
Virgin Money, which was founded in 1995, expanded its business in 2011 when it bought the remnants of Northern Rock for about £747m.
Key figures
CYBG
2.8 million customers
169 branches
£2.6bn market capitalisation
Virgin Money
3.3 million customers
74 branches
£1.5bn market capitalisation
CYBG said the takeover would "bring together the complementary strengths of two successful challenger banks to create the UK's first true national competitor to the large incumbent banks".
Its chief executive, David Duffy, told the BBC's Today programme: "We're going to become a competitor of scale."
He added that "technology and agility" were the factors that would decide the future of banking.
"I think we have sufficient scale – the brands, the product and the technology," he said.
"We can be agile enough to deliver a much better deal for the customer."
---