Nick Kyrgios has added a curious new chapter to his feud with Novak Djokovic, turning up at midnight for the Serbian superstar's latest ATP Cup doubles match and reportedly barracking for his opponents.
Kyrgios and Djokovic are both playing their group ties in Brisbane. The Aussies had Monday off, while Serbia faced France at Pat Rafter Arena.
Kyrgios, a known night owl, turned up for the doubles rubber with a small group that included Greek player Petros Tsitsipas. They were a noticeable bunch, all wearing black and captured on Nine cameras during the official broadcast.
According to a number of Serbian fans, Kyrgios was quite obviously cheering for France. Or, more pointedly, barracking against Djokovic.
Serbia won the doubles rubber 10-3 in the match tiebreak. Kyrgios reportedly left a couple of points before Djokovic and Viktor Troicki sealed victory over Nicolas Mahut and Edouard Roger-Vasselin; the decisive rubber in a 2-1 tie victory for Serbia.
Kyrgios and Djokovic became something akin to enemies last year, to the 16-time Grand Slam winner's ongoing bemusement.
Kyrgios used an explosive podcast appearance to brand Djokovic "cringeworthy".
"I just feel like he has a sick obsession with wanting to be liked," Kyrgios said on the No Challenges Remaining podcast.
"He just wants to be like Roger [Federer]. For me personally — I don't care right now, I've come this far — I feel like he just wants to be liked so much that I just can't stand him.
"This whole celebration thing [the 'boob-throwing' celebration] that he does after matches, it's like so cringe-worthy. It's very cringeworthy.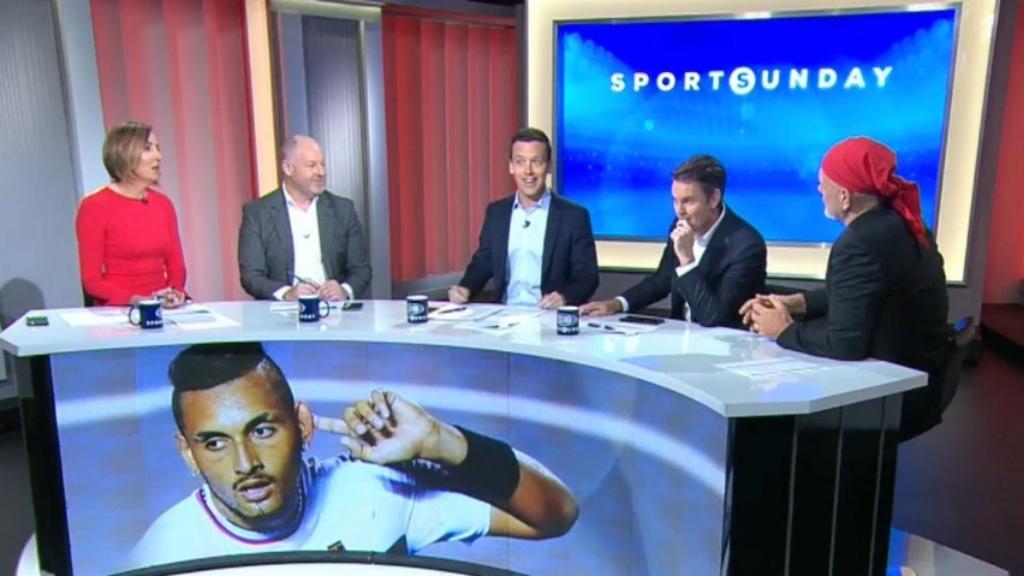 "He's an unbelievable player, he's a champion of the sport; one of the greatest we'll ever see. He probably will, honestly, I reckon he will get the Grand Slam count, I reckon he will overpass Federer.
"We're talking about a guy who pulled out of the Australian Open one year because it was too hot. No matter how many Grand Slams he wins, he will never be the greatest for me.
"Simply because, I've played him twice and like, I'm sorry, but if you can't beat me, you're not the greatest of all time. Because if you like look at my day-to-day routine and how much I train and how much I put in, it's zero compared to him."
Kyrgios is battling a back injury at the ATP Cup and is hoping to resume his campaign against Greece on Tuesday night. He handily beat Germany's Jan-Lennard Struff in his first match.
He's been wonderful value off the court, barracking for his Australian teammates and also playing a leading role in the bush fire fundraising drive among sports stars.