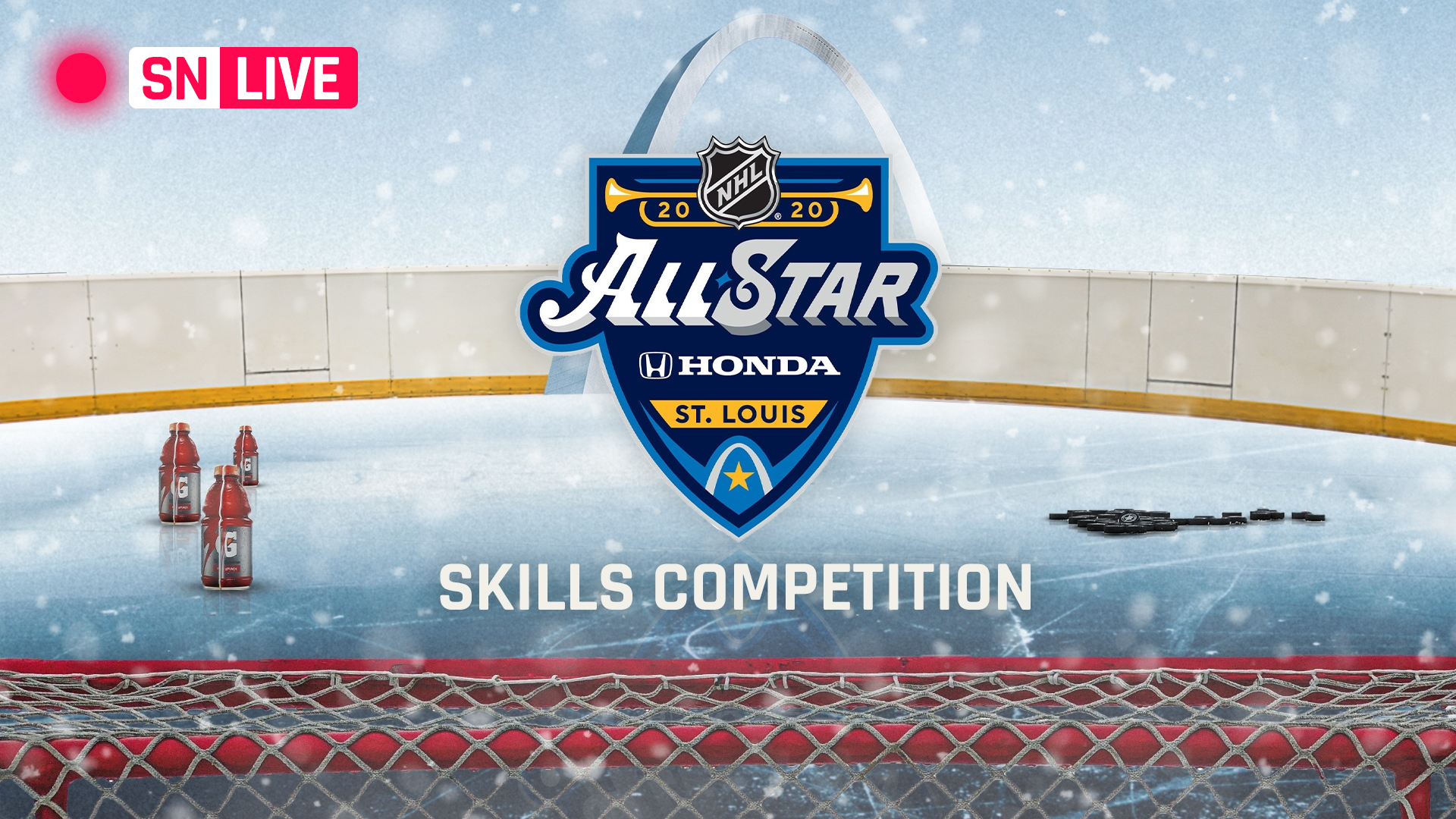 What a way to kick off the NHL All-Star Weekend.
Friday's Skills Competition allowed the league's stars to shine in a more relaxed setting, while still satisfying the competitive nature that drives players at the elite level. Five individual events plus a dazzling women's game between Canada and the U.S. filled the night's docket in St. Louis, with a hometown winner in one event giving the Blues fans in attendance a little something extra to cheer for.
The night began with the popular Fastest Skater event, with most in attendance expecting Edmonton Oilers superstar Connor McDavid to take the crown once again. However, Mathew Barzal of the Islanders had something to say about that, and he laid down a time of 13.175 seconds just prior to McDavid's run to put pressure on the Edmonton captain. 
McDavid couldn't top Barzal's time, missing out by 0.04 seconds.
MORE:  Matthew Tkachuk's chippy controversy no surprise to Blues who watched him grow up
Next up was the goaltenders, who had to face down some of the best scorers in the league in the Save Streak competition. Toronto's Frederik Andersen took an early lead with seven straight stops, but Andrei Vasilevskiy of the Lightning took control of the event with an aggressive strategy that seemed to give him the upper hand.
However, Blues netminder Jordan Binnington rode the huge home support to save 10 straight shots, giving St. Louis a winner on home ice.
With the goalies done, it was time for the Accuracy Shooter event. A new LED board replaced the physical targets that players had to aim for in previous years, and the pinball-like sounds added to the carnival atmosphere at the Enterprise Center.
Jaccob Slavin of the Hurricanes make quick work of the event — literally — as he was the only participant able to finish under 10 seconds, claiming the prize of top marksman.
The men then gave way to the women, as perhaps the most-anticipated event of the night came next with select players from Canada and the United States facing off in the Women's Elite 3-on-3 game. The teams were limited to 10 players each, and the contest was only two halves of 10 minutes apiece with the clock not stopping until the final minute of play. The limitations didn't matter as the women put on a fun display of talent and competitiveness that ended with a 2-1 win for the Canadians.
With the ladies having shone in the spotlight, the men returned to the ice for the Hardest Shot event. There was only one man who was going to win: Shea Weber. And he did just that, by blasting two slappers that were each harder than anything the other contestants could muster.
Last up was a new event that could best be described as Topgolf in an ice rink. The Shooting Stars competition saw eight NHLers joined by one player from each of the women's teams ascend the stairs of the arena and launch pucks over the crowd at various targets on and above the ice. It was a strange-yet-compelling challenge, made all the more entertaining because it was won by villain of the night Patrick Kane of the Chicago Blackhawks in a sudden-death overtime round against Maple Leafs star Mitch Marner.
Sporting News tracked all the action from Friday's events. Here's how it went down in real time.
NHL All-Star Skills 2020: Updates and winners, event by event
11:06 p.m. ET — That's it for tonight's festivities. See you all tomorrow.
Shooting Stars: Patrick Kane, 24 points
11:00 p.m. ET — Marner looks like he hit the 10, but it actually hit the back of the net. Kane wins it with a 2-pointer. Oof.
10:57 p.m. ET — Biggest roar of the event comes for Ryan O'Reilly, who gets some moral support from Brett Hull (who actually took a shot on O'Reilly's behalf). O'Reilly barely misses the 10-pointer needed to tie Marner and Kane, and we're going to one-shot overtime.
10:55 p.m. ET — Pasta time. David Pastrnak comes through with 10.
10:53 p.m. ET — Hilary Knight's turn. She registers 14 points as well.
10:52 p.m. ET — Tyler Seguin up next. He gets 14.
10:51 p.m. ET — A huge round of boos for Patrick Kane, who ties Marner's 22.
10:49 p.m. ET — Brady Tkachuk finishes with six points, much to the delight of older brother Matthew.
10:48 p.m. ET — Matthew Tkachuk gets 20 points and now it's Brady's turn.
10:46 p.m. ET — It's a Tkachuk Family Reunion as dad Keith joins his sons Matthew and Brady on the podium. Matthew then sheds his Flames sweater for a St. Louis Cardinals jersey, much to the approval of the crowd.
10:44 p.m. ET — Marie-Philip Poulin gets a nice round of applause, then logs 15 points. She nearly got a 10-pointer on her last attempt, but hit the post.
10:43 p.m. ET — Mitch Marner hits the 10 with his first try, then nearly gets it with his second. He finishes with 22 points.
10:41 p.m. ET — David Perron steps up to the tee first. He sets the tone with a 14.
10:40 p.m. ET — And here are the participants:
Marie-Philip Poulin, Women's Elite All-Star (CAN)
Hilary Knight, Women's Elite All-Star (USA)
David Pastrnak, Boston Bruins
Matthew Tkachuk, Calgary Flames
Patrick Kane, Chicago Blackhawks
Tyler Seguin, Dallas Stars
Brady Tkachuk, Ottawa Senators
David Perron, St. Louis Blues
Ryan O'Reilly, St. Louis Blues
Mitchell Marner, Toronto Maple Leafs
10:34 p.m. ET — The final event of the night is upon us: Shooting Stars. Here's how it all works, from NHL.com :
Players will be positioned on an elevated platform behind the goal, approximately 30 feet above the ice surface, where they will shoot pucks at a variety of targets located on the ice, with each target possessing different point values. One at a time, each player will attempt seven shots and earn points for each target hit. 
• Pucks that do not hit a target will earn no points. 
• Pucks that bounce, deflect, or otherwise ricochet onto or into a target will be counted for the highest scoring value they hit. 
• A puck that hits the face of a target then falls into the center will be scored as if it went directly into the center.
• A puck that hits the center and bounces out will be scored the point value of the center.
• A puck that bounces off the ice then up onto or into a target will be awarded the corresponding value. 
• A puck that hits the base of the target will not be awarded any points. 
• Players may hit the same target multiple times.
Hardest Shot: Shea Weber, 106.5 mph
10:30 p.m. ET — Forget that. Shea Weber hits 105.9 mph off the bat, then follows it up with a 106.5. It's not even fair.
10:29 p.m. ET — John Carlson gets 104.5 mph in his second shot, after going 102.4 in his first. The new leader.
10:28 p.m. ET — The smallest man in the competition, Elias Pettersson, hits 102.4 and 100.3 mph. Impressive.
10:27 p.m. ET — Victor Hedman goes high, 97.3 mph. His second attempt is much harder at 102.1.
10:26 p.m. ET — Mark Giordano hits 100.8 mph, then 102.1. Not a bad start.
10:25 p.m. ET — Seth Jones opens with 98.8 mph.
10:13 p.m. ET — Hardest Shot time. Here are the participants:
Mark Giordano, Calgary Flames
Seth Jones, Columbus Blue Jackets
Shea Weber, Montreal Canadiens 
Victor Hedman, Tampa Bay Lightning
Elias Pettersson, Vancouver Canucks
John Carlson, Washington Capitals
Elite Women's 3-on-3: Canada 2, USA 1
10:06 p.m. ET — Desbiens makes a save at the buzzer to hold the lead, and Canada wins!
9:59 p.m. ET — GOAL. Knight slides it through the 5-hole after a breakaway to get the Americans on the board. 2-1 Canada.
9:58 p.m. ET — GOAL. It's 2-0 Canada after a low wrister by Daoust freezes the American netminder.
9:55 p.m. ET — Period 2 underway.
9:52 p.m. ET — It's, um, halftime of the Elite Women's 3-on-3. Canada leads 1-0 but the best play of the first period goes to the USA.
9:48 p.m. ET — Shots are 9-3 USA and somehow Canada still leads. Desbiens has stopped four point-blank shots already.
9:43 p.m. ET — GOAL. Rebecca Johnston gets free and roofs it. 1-0 Canada.
9:42 p.m. ET — Puck drop! We'll have two 10-minute periods for this one.
9:33 p.m. ET — The ladies are up! Time for the Elite Women's 3-on-3 event between players from Canada and the USA.
American All-Stars (hometown):
D   Kacey Bellamy (Westfield, Mass.)
F   Alex Carpenter (North Reading, Mass.)
F   Kendall Coyne Schofield (Palos Heights, Ill.)
F   Brianna Decker (Dousman, Wis.)
F   Amanda Kessel (Madison, Wis.)
F   Hilary Knight (Sun Valley, Idaho)
F   Jocelyne Lamoureux-Davidson (Grand Forks, N.D.)
F   Annie Pankowski (Laguna Hills, Calif.)
G   Alex Rigsby Cavallini (Delafield, Wis.)
D   Lee Stecklein (Roseville, Minn.)
Canadian All-Stars (hometown):
F   Meghan Agosta (Ruthven, Ont.)
F   Mélodie Daoust (Valleyfield, Que.)
G   Ann-Renée Desbiens (La Malbaie, Que.)
D   Renata Fast (Burlington, Ont.)
D   Laura Fortino (Hamilton, Ont.)
F   Rebecca Johnston (Sudbury, Ont.)
F   Sarah Nurse (Hamilton, Ont.)
F   Marie-Philip Poulin (Beauceville, Que.)
F   Natalie Spooner (Scarborough, Ont.)
F   Blayre Turnbull (Stellarton, N.S.)
Accuracy Shooter: Jaccob Slavin, 9.505 seconds 
9:28 p.m. ET — Blues' Pietrangelo ends things with 13.763 seconds after a rousing cheer for team legend Bernie Federko.
9:26 p.m. ET — Jaccob Slavin. 9.505 seconds. 😲
9:25 p.m. ET — Huberdeau follows up with 13.704.
9:23 p.m. ET — Leon Draisaitl just breezes through it. 10.257 seconds and a new leader.
9:22 p.m. ET — Tomas Hertl, sans Bieber mask, start out hitting the first four targets and appears well on the way to setting the new standard. Then he missed the next seven and fell off the pace. 17.161 seconds.
9:21 p.m. ET — False alarm. Nico Hischier gets 19.550 seconds after a rough start.
9:20 p.m. ET — So that fancy new LED mschine might actually be broken? Not great.
9:19 p.m. ET — Representing the Red Wings, Tyler Bertuzzi sets the new standard at 13.868 seconds.
9:18 p.m. ET — Mark Scheifele gets us underway with a new LED board in front of the net instead of the old foam targets. 15.160 seconds for the Jets player.
9:12 p.m. ET — Your Accuracy Shooter lineup:
Jaccob Slavin, Carolina Hurricanes
Tyler Bertuzzi, Detroit Red Wings
Leon Draisaitl, Edmonton Oilers
Jonathan Huberdeau, Florida Panthers
Nico Hischier, New Jersey Devils
Tomas Hertl, San Jose Sharks
Alex Pietrangelo, St. Louis Blues
Mark Scheifele, Winnipeg Jets
Save Streak: Jordan Binnington, 10 saves
9:09 p.m. ET — 10 saves! Jordan Binnington wins it!
9:08 p.m. ET — The Justin Bieber mask comes out for San Jose's Tomas Hertl. Bieber and Binnington have a running bet over social media over whether the music superstar can score on the Stanley Cup-winning netminder.
9:06 p.m. ET — Huge ovation for St. Louis' Jordan Binnington, who has a big hill to climb to take the lead in front of his fans.
9:05 p.m. ET — Vasilevskiy's strategy pays off as he becomes the new leader at nine straight saves. The Lightning goalie  was out at the hash marks for most of the shooters.
9:04 p.m. ET — Andrei Vasilevskiy up and playing aggressively.
9:03 p.m. ET — The Capitals goalies gets to five in a row. Andersen still leads.
9:01 p.m. ET — Rittich makes four. Holtby in net now.
8:59 p.m. ET — Hellebuyck gets up to four straight saves. Calgary's Rittich up next.
8:57 p.m. ET — There was a correction in the arena, as Andersen's number is up to seven due to the "save clock" being erroneously reset on a double-save.
8:56 p.m. ET — Connor Hellebuyck of the Jets in net, facing shooters from the Pacific.
8:55 p.m. ET — Andresen gets up to five and ties Markstrom for the lead.
8:53 p.m. ET — Leafs netminder Freddie Andersen faces the Metropolitan Division now.
8:52 p.m. ET — Jarry gets to four, keeping Markstrom in front. 
8:51 p.m. ET — Tristan Jarry steps in between the pipes now.
8:50 p.m. ET — Markstrom gets up to five saves and one F-bomb on national TV (he was on a live mic with CBC).
8:46 p.m. Canucks' goalie Jacob Markstrom gets things started.
8:43 p.m. ET — That was a fun start to the night. The netminders are up next in the Save Streak. Here are the participants:
David Rittich, Calgary Flames
Tristan Jarry, Pittsburgh Penguins
Jordan Binnington, St. Louis Blues
Andrei Vasilevskiy, Tampa Bay Lightning
Frederik Andersen, Toronto Maple Leafs
Jacob Markstrom, Vancouver Canucks
Braden Holtby, Washington Capitals
Connor Hellebuyck, Winnipeg Jets
Fastest Skater: Mathew Barzal, 13.175 seconds
8:39 p.m. ET — Connor McDavid looked like he had it, but he goes a shade over 13.2 seconds. Barzal wins it!.
Mathew Barzal: 13.175. Connor McDavid: 13.215. Barzal wins fastest skater.

— NHL.com (@NHLdotcom) January 25, 2020
8:38 p.m. ET — Mathew Barzal throws down the hammer. 13.175 seconds.
8:37 p.m. ET — Jack Eichel stumbles on one turn and still does 13.540 seconds! Wow.
8:36 p.m. ET — Travis Konecny clocks in at 14.113.
8:35 p.m. ET — Ottawa's Anthony Duclair puts up a 14.005. 
8:34 p.m. ET — 14.263 seconds for Quinn Hughes.
8:33 p.m. ET — Nathon MacKinnon up next… 13.895 seconds for the Avalanche star, who wasn't as smooth as Kreider.
8:32 p.m. ET — Chris Kreider is up first. He sets the pace at 13.509 seconds.
8:31 p.m. ET — That's a bold strategy.
Fastest skater coming up. Asked a bunch of guys about strategy for the event and the answer was — just don't fall.

— Jackie Spiegel (@jackiespiegel93) January 25, 2020
8:26 p.m. ET — Fastest Skater competition is up first. Here are the participants: 
Jack Eichel, Buffalo Sabres
Nathan MacKinnon, Colorado Avalanche
Connor McDavid, Edmonton Oilers
Mathew Barzal, New York Islanders
Chris Kreider, New York Rangers
Anthony Duclair, Ottawa Senators
Travis Konecny, Philadelphia Flyers
Quinn Hughes, Vancouver Canucks
8:20 p.m. ET — #BattleOfAlberta mood during the anthems.
The #Flames and Oilers are standing next to each other on the blueline and it is very awkward.

— Ryan Pike (@RyanNPike) January 25, 2020
8:11 p.m. ET — Shea Weber reps Montreal with a big grin.
8:06 p.m. ET — Interesting choice of headwear…
7:52 p.m. ET — Players are on the ice warming up. It's almost time.
7:48 p.m. ET — This is pretty cool. 


[ad_2]

Source link