Donald Trump admitted his 2020 presidential election defeat during an interview with Sean Hannity on Wednesday, telling the Fox News host: "We didn't win."
The former president conducted a wide-ranging interview with Hannity and conceded to having lost to President Joe Biden—despite having long contested the result.
"We were supposed to win easily, 64 million votes," Trump said in the interview.
"We got 75 million votes, and we didn't win, but let's see what happens on that."
Trump's latest comments come more than seven months after calls declared Biden the winner of the presidential election back in November.
The former president has repeatedly contested the result, making unsubstantiated claims of widespread voter fraud. There is no evidence of irregularities on a scale that would have changed the election outcome.
The former president and his allies have filed lawsuits in several battleground states in the wake of the election contesting the results, which have thus far failed. Audits and recounts have also reaffirmed Biden victories.
Trump conceded in January that Biden would be the next president, though has continued to dispute the outcome since. Biden was inaugurated in January.
Biden won 81,283,098 votes, or 51.3 percent of the votes cast in November's election, while Trump finished with 74,222,958 votes, or 46.8 percent of the ballots cast.
Although Trump admitted that he lost the election, his comment of "let's see what happens on that" chimes with his push against results.
Trump went on to criticize Biden's first five months as president during the interview with Hannity, which he conducted over the phone from his summer residence at his Bedminster golf club in New Jersey.
He claimed that the U.S. is now in a "shocking state" and appeared to blame Biden for a rise in oil prices that occurred during the pandemic due to the grounding of flights and restricted travel.
The former president said that when he left office fuel prices were at $1.87, but are now "over $3," before saying: "Frankly, for our country, it is a disaster. It's going to stop everything."
Trump said that he is still considering running for president again in 2024, suggesting polling indicates he remains a popular candidate.
He said that after the midterms he will "be making a decision on 2024, but if you look at the numbers, people are liking me more than ever before."
"I think the reason is they are watching what is happening with our country, they are watching no energy independence, never has there been a scene like what is happening at the border, and the death that is being caused," he said.
"This is not just border, this is death and criminals pouring into our country. They are looking at the economy and inflation, looking at interest rates and gasoline prices, and I guess it is making me very popular."
Newsweek has contacted the former President Trump's office for comment. The White House has also been contacted for comment on Trump's criticism of Biden.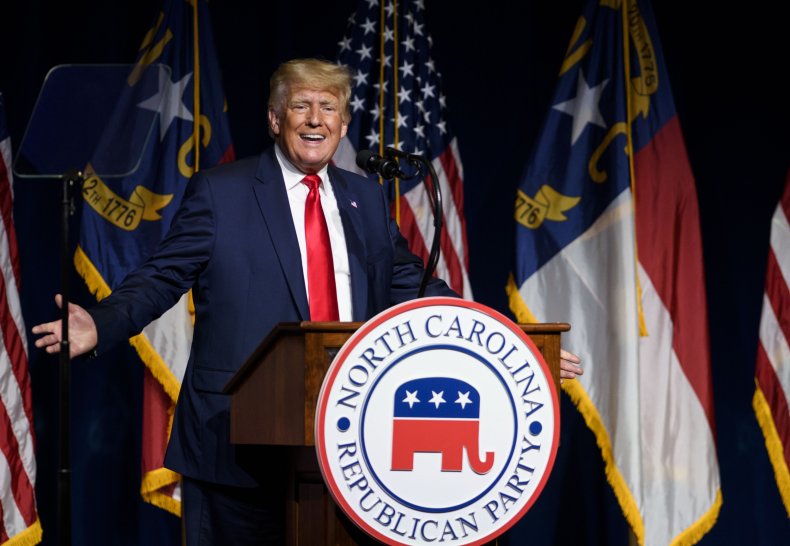 Update 06/12/21, 6:29 a.m. ET: This article was updated with further details of the interview and additional context throughout.