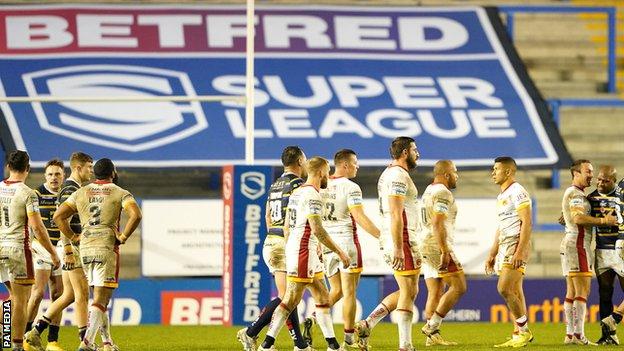 The government has announced a rescue package of £300m of emergency funding for sports impacted by the absence of spectators because of coronavirus.
Both rugby codes and horse racing are among the beneficiaries, but not clubs in football's Premier League nor the English Football League.
Cricket was not on the initial list.
"Clubs are the beating hearts of their communities – this boost will help them survive this difficult winter period," said DCMS minister Oliver Dowden.
The government said the Sports Winter Survival Package, which will be largely composed of low-interest loans, will support rugby union, horse racing, women's football and the lower tiers of the National League. It added that rugby league, motorsport, tennis, netball, basketball, ice hockey, badminton and greyhound racing were also in line to benefit.
Sports minister Nigel Huddleston added that grants would be available where organisations were unable to repay loans. He also said "the door was open" to any sport requiring funding, including cricket which was not on the initial list.
The money available is for sports in England, with Scotland, Wales and Northern Ireland responsible for their own budgets.
The Department for Digital, Culture, Media & Sport (DCMS) statement added: "Preliminary allocations have been made on a needs-based assessment process and reflect the submissions made from the individual sports, and the funding process will be overseen by an independent decision-making board and supported by Sport England."
It said the first tranche of funding will be distributed in the coming weeks.
A breakdown of funding distribution (preliminary figures):
Note: The final amount received by each sport/organisation may differ from the amounts set out when final decisions are made by an independent decision-making board, and supported by Sport England.
Rugby Union: £135m – Rugby Football Union: £44m; Premiership clubs: £59m; Championship clubs: £9m; Clubs below Championship: £23m
Horseracing: £40m – To racecourses
Football: £28m – National League (steps 1-2): £11m; National League (steps 3-6): £14m; Women's Football (Women's Super League and FA Women's Championship): £3m
Rugby League: £12m
Motorsport: £6m – Owners/operators of major circuits (Silverstone, Goodwood, The British Automobile Racing Club, MotorSport Vision)
Tennis: £5m – Lawn Tennis Association
Netball: £4m – England Netball: £2m; Super League Netball: £2 million
Basketball: £4m – Basketball England: £1m; British Basketball League clubs (including Women's British Basketball League clubs): £3m
Ice Hockey: £4m – Elite League
Badminton: £2m – Badminton England
Greyhound racing: £1m – Greyhound Board of Great Britain
'It's a bit of breathing room'
Kat Ratnapala, director of netball at Superleague club Saracens Marvericks, told BBC Radio Five Live: "This means a huge deal to us. The big thing for us is to make sure we are prepared and financially able to start our new season in February.
"It's been a tough year for us, financially, to make ends meet. We set up a funding page just so we could come through the first Covid lockdown. It's a loan and we need to pay that back eventually.
"We're definitely not out of the woods, but it's a bit of breathing room so that we can get back on to court at least and get a full season under out belts."