Biden makes fun of his age at the White House Correspondents' dinner : NPR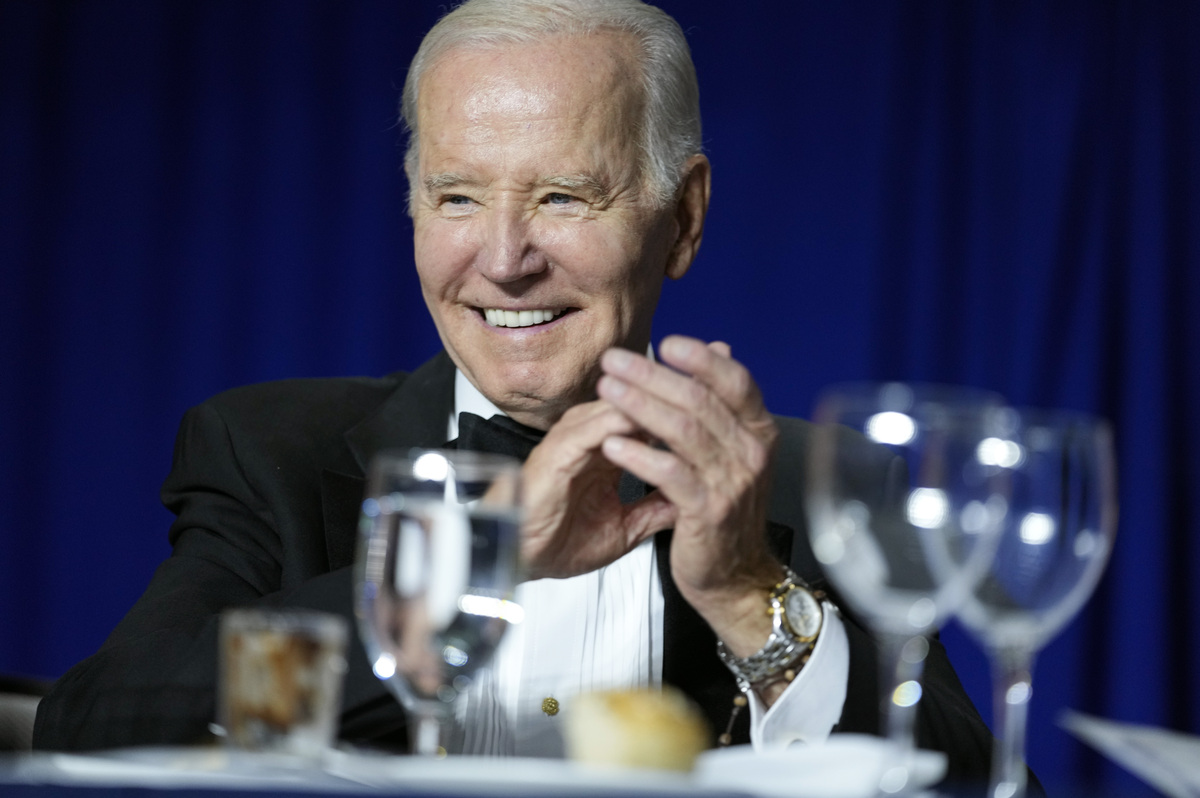 President Joe Biden balanced jokes with a reverence for a free press during his speech at the White House Correspondents' Association Dinner on Saturday, roasting media figures, politicians and himself.
Biden, 80, nodded to recent media coverage about his age as he seeks another four-year term.
"Look, I get that age is a completely reasonable issue," he said, before sharing his perspective: "You might think I don't like Rupert Murdoch. That's simply not true. How can I dislike a guy who makes me look like Harry Styles?"
"Call me old, I call it being seasoned. You say I am ancient, I say I'm wise" Biden said. He then joked: "You say I'm over the hill, Don Lemon would say, 'That's a man in his prime,'" dragging the former CNN anchor days after Lemon was fired following his sexist and ageist comments made against Nikki Haley.
Right-wing channel Fox News — who recently settled a $787.5-million defamation lawsuit with Dominion Voting Systems, and then this week ousted host Tucker Carlson — took multiple jabs from the president and this year's headliner comedian, Daily Show correspondent Roy Wood Jr.
"I'd call Fox 'Honest, fair and truthful.' But then I'd be sued for defamation," Biden cracked to a packed ballroom in Washington, D.C.
Biden also struck serious notes, emphasising the importance of a free press. He said of Evan Gershkovich, the Wall Street Journal journalist detained in Russia on espionage charges, that he was "working every day to secure his release."
He also returned to a theme from last year's speech, saying that America's "democracy remains at risk" from misinformation and "poison" in some sections of the press. "Lies told for profit and power. Lies and conspiracy and malice repeated over and over again, designed to generate a cycle of anger, hate and even violence," Biden said, pointing to book bans, anti-transgender laws, abortion bans and the recent expulsions of state representatives over protests.
Speaking after the president, Wood, the latest Daily Show star to accept the WHCD headlining gig, poked fun at Biden, Florida Gov. Ron DeSantis, Rep. George Santos and former president Donald Trump. The comedian noted that the one thing unifying media and government was "scandal."
"Real quick, Mr. President, I think you left some of your classified documents up here," he opened.
Wood joked that no scandal has been more damaging than the scandal of: "Is Joe Biden awake?"
"Say what you want about our president, but when you wake up from that nap, work gets done," Wood said. He "might doze off, but then it's, 'Infrastructure bill, student loan forgiveness … did we free Brittney Griner? Free Brittney Griner!'"
Wood, who majored in broadcast journalism at Florida A&M University before entering comedy, turned sincere in his defense of media. But, he said, much of the public can't afford some of the media's "most essential, fair and nuanced reporting" — a lot of which is paywalled.
Wood earned boos from some in the audience when he brought up anti-drag legislation and gun violence.
"Drag queens are not at a school to groom your kids. Stop it," he said. "And even if they were, most of them kids are going to get shot at school."
"Don't groan, pass legislation," Wood told the lawmakers in attendance.
As star journalists mingled with comedians and other celebrity at this year's event, climate activists used the occasion to stage a protest outside of the Washington Hilton Hotel, where the dinner was held. Protesters were demanding President Biden keep his promise to end new fossil fuel drilling on federal lands. The protest was organized by Climate Defiance, a group that calls itself "a brand-new movement of young people."
The WHCA's guests were forced to walk past a line of protestors to enter the event, noted Mia McCarthy, a reporting fellow for Politico who was on the scene, as activists chanted that the media was complacent and not pressing Biden enough on the issue.
NPR also played a part in Biden's speech. The president took a jab at Elon Musk's rocky Twitter acquisition, and then joked about Musk's criticism of some media organisations.
"Elon Musk tweeted that [NPR] should be defunded," Biden said. "Well, the best way to make NPR go away is for Elon Musk to buy it."