As Hurricane Irma leaves a trail of deadly destruction across the Caribbean, forecasters projecting the path of the powerful category five storm are warning of further devastation.
Hurricane warnings have been issued for several islands feared to be at risk, with the US state of Florida also declaring a state of emergency as relief efforts are put in place ahead of possible landfall on Sunday.
But with residential areas left "barely habitable" in the regions already struck, which areas are likely to be the worst affected by Hurricane Irma in the coming days?
---
Dominican Republic
Population: 10.2 million
Key facts: major tourist destination, shares island of Hispaniola with Haiti
Hurricane report: thousands of people were evacuated with Irma predicted to pass close by; the storm was skirting the north of the region on Thursday; previous forecasts suggested that the mountainous area could help to stifle the storm's winds, causing them to reduce slightly. Damage still to be fully assessed
Haiti
Population: 10.2 million
Key facts: on the same island as the Dominican Republic; devastated by an earthquake in 2010; it was hit by a less powerful storm in 2016, Hurricane Matthew, killing more than 500 people
Hurricane prediction: not directly in the hurricane's path, but remains on alert with warnings of increased winds and possible flooding
Turks and Caicos
Population: 31,500
Key facts: enjoys one of the more dynamic economies in the region thanks to upmarket tourism, offshore finance and fishing; the region was placed under a tropical storm watch in September 2010 but escaped devastation as Hurricane Earl, a category four storm, passed to the east
Hurricane prediction: the low-lying region is at risk of a storm surge with destructive waves up to 6m (20ft) higher than usual possible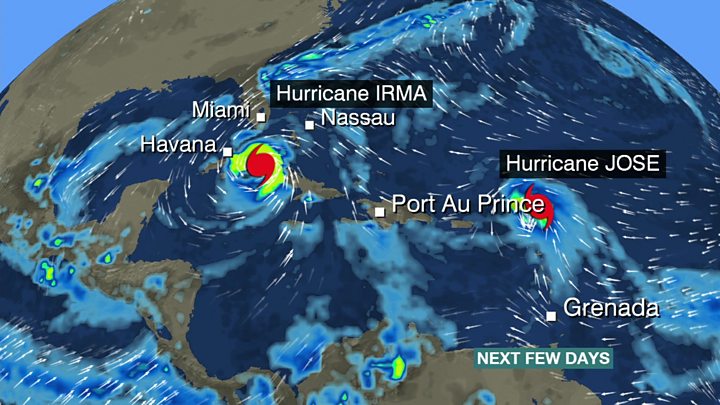 Cuba
Population: 11 million
Key facts: one of the world's last planned economies; a producer of sugar, tobacco and coffee, with a big tourist industry; the region was battered by 175km/h winds in 2012 when it was struck by Hurricane Sandy
Hurricane prediction: tropical storm conditions expected to begin on Thursday night (local time)
Bahamas
Population: 350,000
Key facts: an archipelago of more than 700 islands and islets, which attracts millions of tourists per year; like Haiti, the area was hit by violent winds and heavy rainfall as Hurricane Matthew arrived in 2016
Hurricane prediction: warnings for north-west, south-east and centre; some areas have risk of storm surge of up to 6m (20ft)
Florida
Population: 21 million
Key facts: extremely popular tourist destination; surpassed New York to become the third most populous US state in 2014; Miami, the state's economic and commercial capital, has strong links to Latin America; in 1999, Hurricane Floyd caused the evacuation of hundreds of thousands of people in the state but the storm narrowly missed Florida and came ashore in North Carolina
Hurricane prediction: warnings that Irma could make landfall in the state on Sunday; forecasters warn of strong winds and heavy rain; evacuations of tourists and residents of Florida Keys began on Thursday